MLS 2007 Starts Today!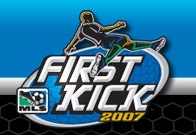 At long last, the wait is over: the 2007 Major League Soccer season finally begins today!
I wrote last July that I thought
I might be getting hooked on soccer
. Well, I was, and I've stayed hooked.
My home team,
FC Dallas
, only made it to the quarterfinals last year, but are practically a lock to win the MLS Cup this year, as well as the $1 million prize in the brand new U.S.-Mexico tournament:
SuperLiga
. I had a blast roadtripping to two games at Pizza Hut Park last year, and will go to as many more this year as I can manage.
So I'd have something to follow in the offseason, I picked
Liverpool F.C.
as my English Premier League (EPL) team. Looks like they won't win the league this year, thanks to a bad start to the season, but they're looking good to advance to the semifinals of the
European Cup
.
Back to the States, this is Major League Soccer's 12th season, and it is looking very solid as a viable league (as opposed to the doomed previous league,
NASL
). There's a new expansion team this year (Toronto FC) that sold out all their season tickets months ago, there are brand new soccer-specific stadiums in Toronto and Colorado (you can see the latter in the opening game on ABC, today at 3:30 ET), and there are new TV deals that both have every game televised somewhere, and make money for the league (as opposed to costing it, which TV did last year).
Oh yeah, there's also some famous English guy coming to play for the L.A. Galaxy later this summer. But you already knew that.
Here are a few of the online resources I've enjoyed the most since starting to follow the sport:
Now if you'll excuse me, I'm off to jump around anxiously until today's games start.